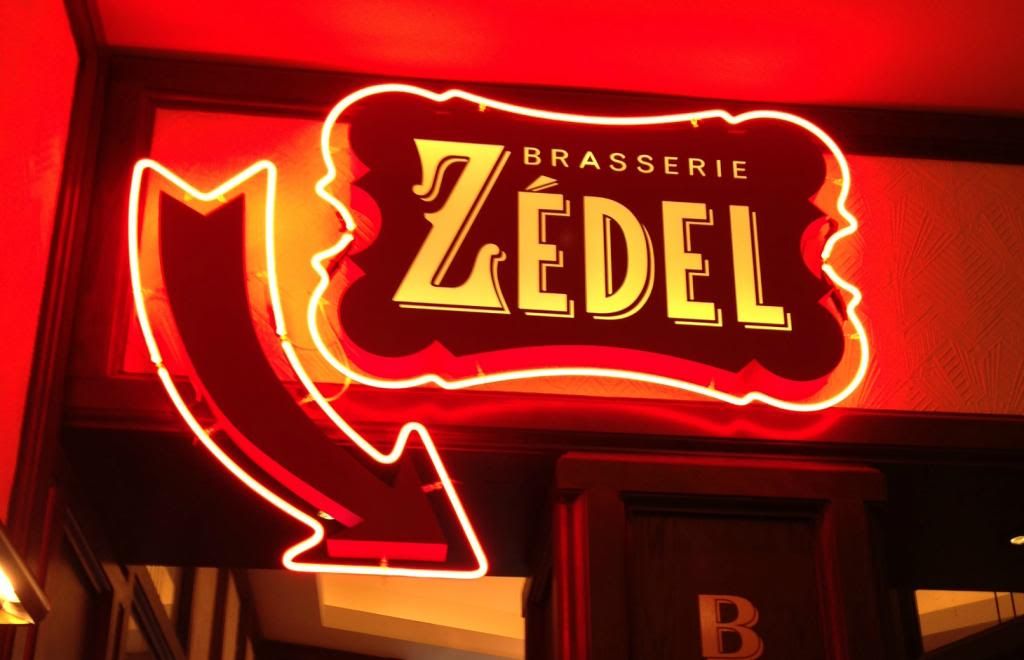 One of the best things about London Town, in my humble opinion anyway, is that you are constantly discovering amazing new places; be it museums, independent shops, hidden parks or in the case of this weekend - amazing eateries. That's one of the reasons why I love this city so much. I never know what I'm about to discover, it's like being a tourist all over again! This past weekend I met up with a good friend for a late lunch and she suggested Brasserie Zedel, which is slap bang in Piccadilly. After having a peruse on the site I was up for it as it looked like proper French food and not the touristy stuff like snails or frogs legs that I assume isn't as widespread in France as one would think! So off I set with no clue of what to expect and ended up having the most brilliant taste of France (literally) smack bang in the middle of London.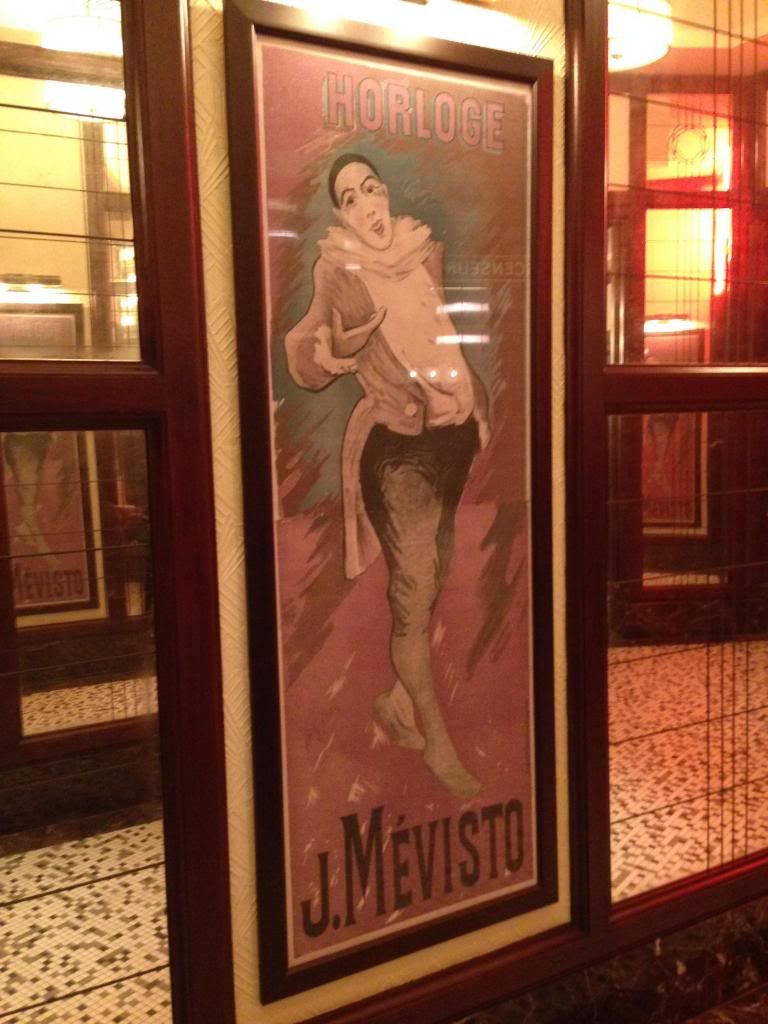 You enter the Brasseries through a very unassuming little cafe with only a few tables and what looks like the most amazing tasting croissants - I most definitely need to return soon to try one of those! We headed through the cafe to a corridor lined with the most brilliant French posters and made our way downstairs to a very Moulin Rouge looking lobby that opened up into the most surprising room - the restaurant. The restaurant is a cavernous room that I can't believe I never knew existed under the streets of London. It's got massive marble pillars and huge bright lights and tables and chairs fill the space. There are also gorgeous red velvet covered booths and a grand piano with a pianist to provide wonderful background music. The place really is the most surprising of venues. I can't believe it's only just been bought to my attention - amazing.
So that's the restaurant, now what about the important bit, the FOOD! I have just one word for you: sublime! Really everything that I tasted was exceptional. From the freshly baked bread and crispy fries to the delicious Croccroute de la Mer and succulent chicken in champagne sauce and then on to the scrumptious tarte tatin, the food was just perfect! I opted for the Croccroute as I had no clue what it was and I thought I should try something new (to me at least) and it was definitely a good choice. It was a selection of really fresh fish - mussels, salmon and trout - in a creamy sauce on a bed of sauerkraut and new potatoes. Not something that I would have chosen if I knew what it was as I once had a very bad sauerkraut experience, but this meal was so delicious I may be converted to such a delicacy. I honestly can't fault the food at all. It was all delicious and seemed to have been kept faithful to the French recipes.
Even though the room was fairly cavernous and every table was full on Sunday afternoon it wasn't an overwhelming restaurant at all - you didn't feel like the noise was overwhelming or like you were eating in a massive air hangar, which is prove that they have got the vibe right. As for the cost, we had two courses and drinks and it was £25 each, which isn't cheap. But when you remember you're in central London and you've just had the most scrumptious French food you can't really complain. Plus it's such a great experience, it's worth every penny!
If you've never been to Brasserie Zedel and you fancy a little taste of France when you're next in London I highly recommend it. After all anywhere that has their name embroidered on the serviettes has to be worth a try right?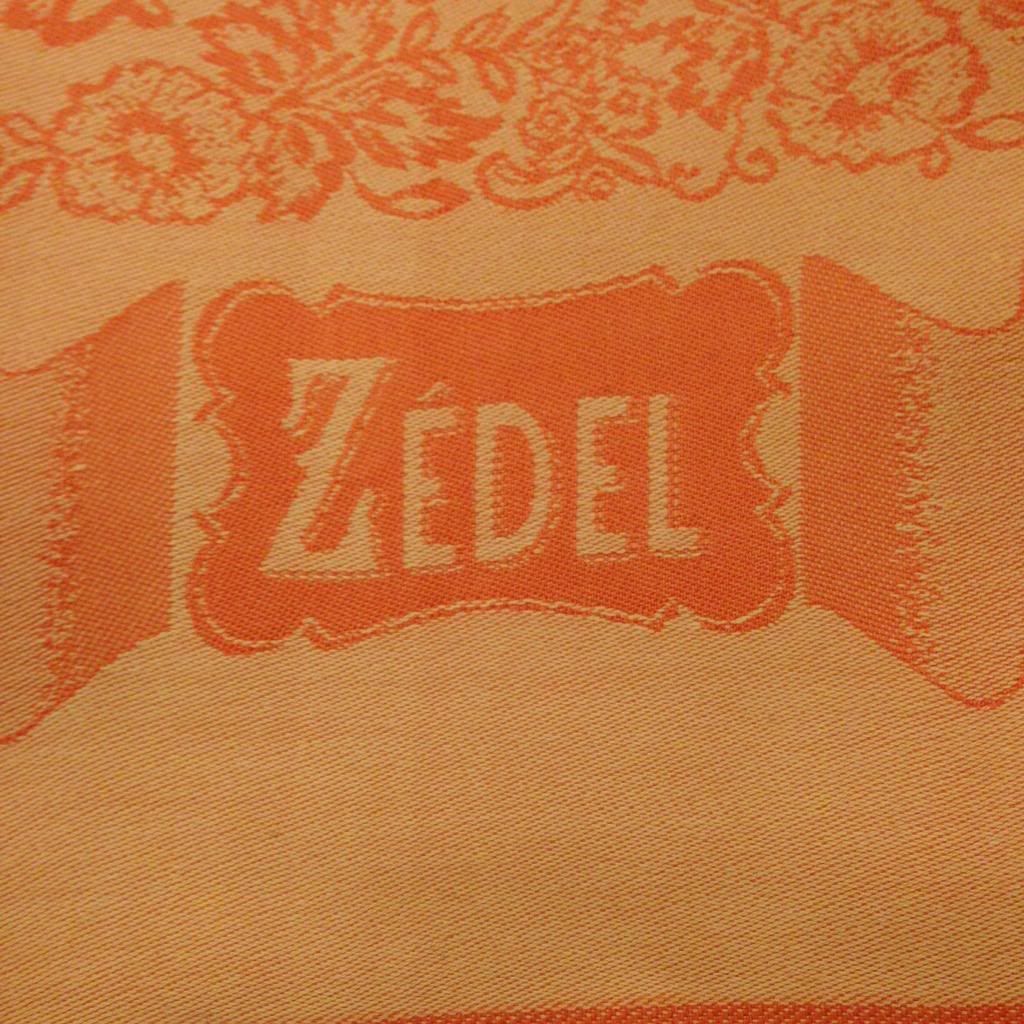 So tell me have you ever had a similar experience and discovered somewhere just round the corner from you that transports you to an entirely new country? It can't just be me!