Hi, hello and how are you? Looking forward to the new week? I certainly am. It's certainly going to be a busy one, but it'll have a lot of good stuff sprinkled in there too so I can't wait to get going on it! Plus it ends with my very first half marathon, eek, so that's definitely something I'm looking forward too - hooray for the fact that I can soon cease with the training!
As it is World Book Day this week and kids all over the country are celebrating books and reading it seems very apt that my first post of the week is my reading round-up for February. I struggled getting into any book at the beginning of February, who knows what was wrong with me but thankfully that ended and I was able to read three excellent books and one, not so excellent. Read on to see what I've been enjoying...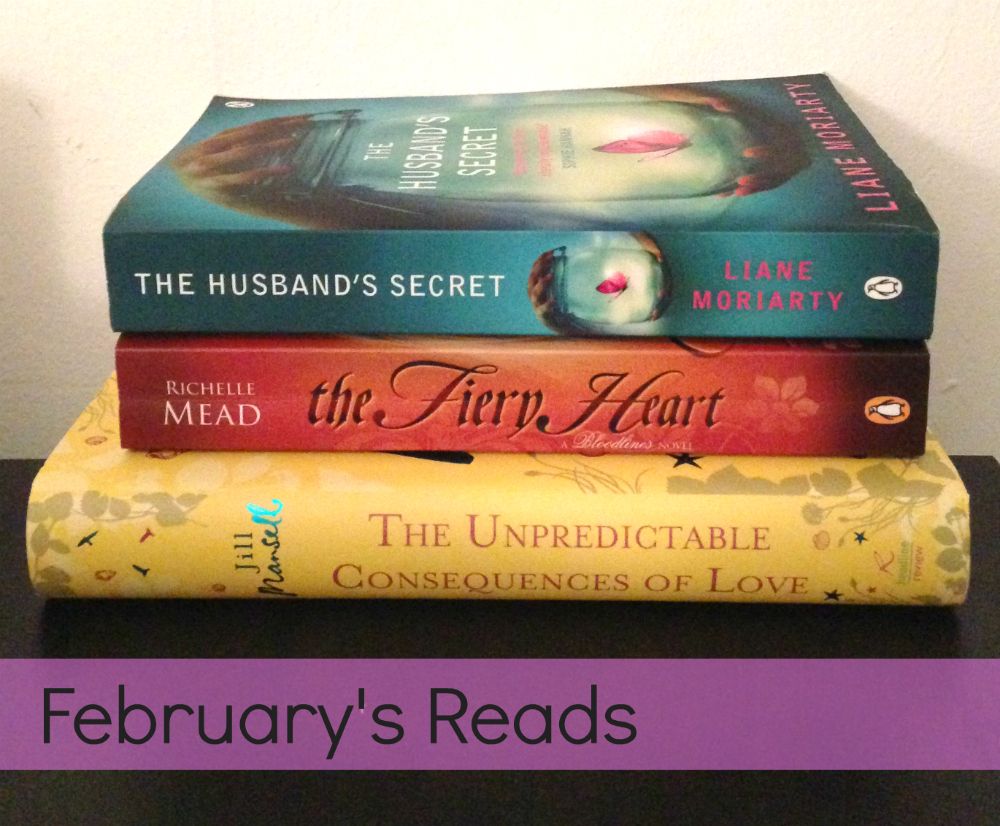 Fortunately, the Milk - Neil Gaiman
I chose this book as I'm constantly hearing good things about Neil Gaiman's writing, yet I've never read any of his books. So with one of my reading resolutions being to try books by new authors (at least to me) I thought I'd take a leap into his latest story. Sadly this book didn't quite live up to my expectations. It was funny, but it was just a bit too ridiculous for my liking. I felt like he'd written a list of things he wanted to include in a book - vampires, milk, a hot air balloon and dinosaurs - and then tried to cram it all together and failed. The story didn't really make sense. Yes I know it was meant to be preposterous it was just too preposterous and absurd in my book. This is clearly now how everyone else felt and I really feel like I missed something with this book, which is a feeling that I hate. But it just didn't work
The Husband's Secret - Lianne Moriarty
Oh this book was good - everyone should read it! It tells the interlocking story of three women who are all struggling with something - infidelity, betrayal, deep loss and the sudden realisation that the person they adore isn't who they think. Moriarty manages to hook you in to the book immediately with a couple of pages on each character that just blows up their perfect lives. From them on I was hooked. What's clever in this story is that even though you know what one of the big reveals is going to be you still want to read it as you feel like you know the characters. You're immediately rooting for them and hoping that they get through the 400 odd pages as unscathed and whole as possible. This really is beautifully written and reminds us all that things aren't always black and white or good and evil.
The Unpredictable Consequences of Love - Jill Mansell
I was lucky enough to win this book through Twitter - thanks Commuter Book Club (@RailBookClub on Twitter) and I was so pleased as Jill Mansell is one of my favourite authors, as mentioned way back when here. I love her books and find them the perfect form of escapism. The characters are always likable and well-rounded and often not what they seem at first glance. And even though you know the leads will end up happy and with 'the love of their life' it's always enjoyable to see how they'll get there. So when a seaside setting is thrown into the mix, what's not to love?
The Fiery Heart - Richelle Mead
Richelle Mead's Bloodlines series is such a guilty pleasure for me. Yes there are vampires and yes it's a bunch of American school kids but that's where the similarities between Bloodlines and that other vampire series ends. This series, of which Fiery Heart is the fourth, is chock full of hilarious one-liners, real teen angst and divided loyalties, oh and a magical element. It really is brilliant and I promise I'm not just swayed by the glorious description of love interest Adrian. It is also brilliantly written. Definitely a must-read.
So what have you been reading over the last month - anything I need to add to my bookshelf?