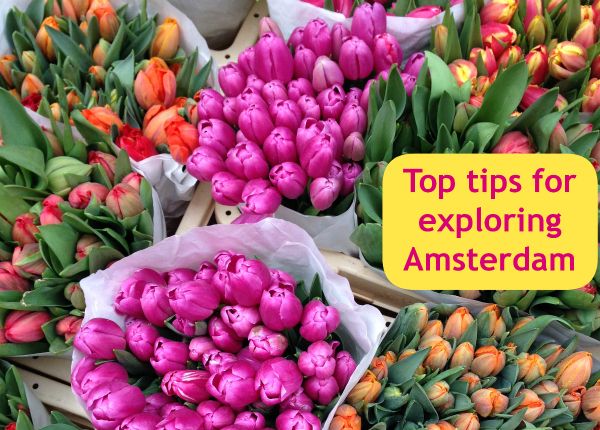 Okay I admit it, I'm in absolute love with Amsterdam, that city is wonderful. It's stunningly beautiful - even in torrential rain - the food is delicious, the public transport is easy to use, it's the perfect size for exploring on a weekend and it's jam-packed with cultural bits and bobs. I'm just astounded that it's taken me 29 years to discover this, just think of all the fun trips I've missed - I could have visited ten times and not just once. Epic mistake on my part!
For this post about my trip I thought I'd natter about the useful things I learnt about the city and things to be aware of if you're headed there for the first time. So I hope you find these tips useful. If you've been to Amsterdam let me know if I've missed anything.
I would strongly suggest you invest in an
IAmsterdam card
. You can get one that last 24, 48 or 72 hours and they are invaluable for anyone visiting the city. Not only does it cover all the trams, buses and tubes during that time it also gives you free entry to a number of attractions and money off at certain shops and restaurants. We definitely got our money's worth whilst we were there and we visited more places as a result of it. We used it at the Pancake House, Rembrandt's House, a canal cruise, the Van Gogh Museum (to get speedy entry) and so much more.
If you're flying then getting from the airport to the city couldn't be easier. The airport and station are all the same building and it's only 4 Euros for a single to the city. I can't think of any city where it's that cheap - can you?
Really helpfully there are luggage lockers at the station which cost 7 euros (for a massive one) for the entire day. We were able to fit three wheelie suitcases (hand baggage) sized into one and it meant we could get exploring the city straight away.
If you're planning a visit to Anne Frank House, which you must as it's fascinating, make sure you book it about a month in advance. As there is always a queue there. We didn't as we didn't realise it was necessary and ended up queuing for 90 minutes on a Saturday night and that was at 6.30pm. If we'd queued up earlier in the day it would have been much shorter. But hey you live and learn!
Stay out near Vondelpark rather than in the centre of the city. This is what we did and not only was it much cheaper, it was also so quiet and really made you feel like you were living like a proper Amsteram person. Also we were able to walk to key touristy places like the Van Gogh Museum and the Rijksmuseum.
Beware of cyclists. They definitely rule the roads in Amsterdam. Whilst it's great that the city is so prepared for bikes it's to the detriment of pedestrians, so just beware!
As per usual I'm linking up with Bonnie and the other bloggers in the
Travel Tuesday link up
, so make sure you check out all those brilliant posts too!