So yes I'm a little bit late with January's reading round up, oops sorry about that! I was away last weekend and as a result I'm generally behind at life right now, but this weekend will hopefully be super-duper productive so I'll be caught up soon. (Yes I am clearly living in a dreamland!)
Anyway back to my reading pursuits over the last few weeks, I only read four books which doesn't bode well for the Good Reads challenge I set myself, eek! However my month included
Love, Nina
which was one of the books I wanted to read this year and also
The Rosie Project
which has been on my TBR pile for simply ages. So at least I'm on track on that part of my challenge. (If you can't remember what my 2014 book challenge is, you can remind yourself all about it
here
). Three of the books I read in January were part of Alex's A Blogging Good Read, so head on over to her blog post
here
to see what we all thought of those three books - here's a hint I LOVED
The Rosie Project
and
Love, Nina
but
My Dear I Wanted to Tell You,
not so much love I'm afraid.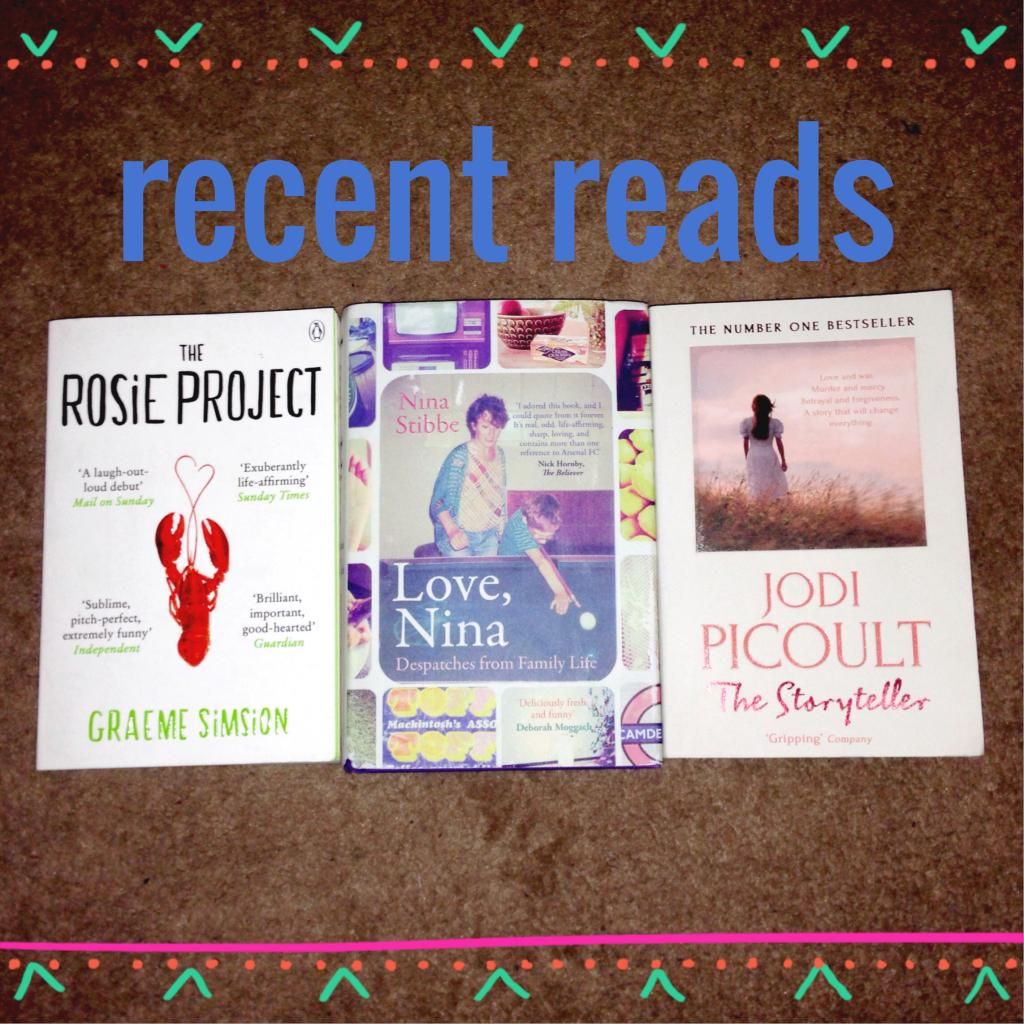 As for the fourth book I read this month it was the simply wonderful
The Storyteller
by Jodi Picoult. This is the story of Sage who is purely existing after an accident when she befriends an old man who is one of the pillars of her local community. As the story unfolds Sage realises that her new friend was a member of the SS and her beloved grandmother is a holocaust survivor. Oh and also her new friend wants Sage to help him die. Yes, clearly a light read!
This is definitely one of those Jodi Picoult books that instantly draws you in and leaves you wanting to know more. It also, of course, has the usual twists and turns as the truth slips out chapter by chapter and keeps you hooked. The thing that makes this story stand out from Picoult's other books are the sections set in war time, which are so realistic. I don't think any of her past books delve into a similar historical moment in quiet so much detail. These moments are sensitively and beautifully written but they are hard to read due to the harrowing and horrific honesty within them. At times this book and the plight of some of the characters was simply heartbreaking. But that made the book even better in my opinion, you can't help but empathise with the characters and at the same time appreciate the task that the author has undertaken with this book. Yet again Jodi Picoult has delivered a wonderful story about life, love, regret and forgiveness, whilst at the same time tackling a fascinating and heart-breaking period of history. For me it's as good as my other favourite books from her -
My Sister's Keeper
and
Nineteen Minutes
.
The Storyteller
is most definitely a must-read.
What about you, what have you been reading recently, and any more suggestions for my book shelf?